In the course of vacuum-refining electron-beam melting, the material, as a rule, is melted into a copper water-cooled crystallizer with the use of an intermediate tray (vessel) where the material to be melted is fed along a horizontal path. The feedstock may be in the form of ingots, lumps, rods, and any kind of waste, e.g. compressed chips (shavings).
Electron-beam melting yields high-purity ingots of refractory and high-reactive metals and alloys of tungsten, titanium, molybdenum, niobium, hafnium, zirconium, nickel, copper, cobalt and iron; high-quality heat-resistant and heatproof alloys, as well as intermetallides such as Ti3AI, TiAl, Ni3AI, NiAI, etc.
ELTECHMASH offers refining electron-beam re-melting of customers' metals and alloys, as well as melting of metals and alloys according to the chemical composition specifications.
Size of meltable ingots and blocks:
ingots:
- diameter: 60 to 138 mm;
- length: up to 1900 mm;
blocks:
- cross-section: up to 140x160 mm.

EB-molten metal ingots
ELECTRON-BEAM RE-MELTING OF RAPID TOOL STEEL WASTE
ELTECHMASH has mastered the technique of electron-beam re-melting of rapid tool steel and producing commercial ingots to be further used for tool manufacturing. The electron-beam equipment used by ELTECHMASH allows to re-melt, in the vacuum environment, any rapid tool steel waste (spent tools, tool-making waste) yielding cylinder-shaped ingots of the diameter from 60 to 130 mm and blocks with the cross-section of up to 140x160 mm and length up to 2000 mm.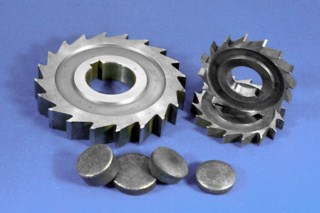 Tools fabricated from rapid tool steel waste
Technological and cost-efficiency benefits:
- the re-melting process and ingot shaping process run within a single work cycle without any further thermo-mechanical processing or treatment (forging, annealing);
- it is possible to re-melt lump feed-stock;
- quick changeover of mounting fixtures for producing ingots of the required size;
- high quality of ingots generated by vacuum melting;
- low-batch production of commercial ingots.
ELTECHMACH produces rapid tool steel ingots and blocks and re-melts tool-making waste supplied by the Customer. The output capacity of the equipment amounts to 50 tons of rapid tool steel ingots per year.
FABRICATION OF MAGNETRON SPUTTERING TARGETS
The degasified electron-beam melting, evaporation and subsequent condensation technologies and the industrial equipment designed and operated by ELTECHMASH allow fabricating magnetron sputtering targets almost from any metal, metallic alloy or intermetallide.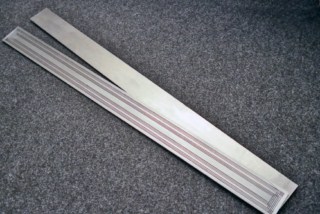 View of a target made of nickel and chromium,

1550 mm long, 120 mm wide and 12 mm thick
Specifications for target workpieces produced by EB melting:
- material for targets: Ni, Co, Fe, Al, Ti, Cu, Nb, Cr, Zr, Mo and alloys based on such metals;
- purity: at least 99.5%;
- shape of workpieces: cylindrical (diameter 60 to 138 mm); flat rectangular, cross-section up to 140x160; length up to 1900 mm.
Specifications for targets produced with the use of EB evaporation and subsequent condensation in vacuum environment:
- purity: up to 99.9%;
- deposited layer thickness, mm: 3…8;
- shape and maximum size, mm:
     round (diameter) - up to 800 mm;
     flat rectangular - 600x600 mm;
     cylindrical:
     length - up to 400 mm;
     diameter - 220 mm.
Benefits: 
Obtaining high-purity sputtered effective layer with good adhesion to a copper substrate-carrier within a single work cycle.
Applications:
Megnetron sputtering systems and generation of thin films for various purposes. 
Ni-Cr-Al-Y TUBULAR CATHODES FOR ION-PLASMA DEPOSITION OF HEAT-RESISTANT COATINGS
        The ELTECHMASH company has mastered the production and started commercial production of tubular cathodes of alloy Ni-Cr-Al-Y for ion-plasma deposition of heat-resistant coatings on MAP-1, MAP-2, MAP-3 units. Exterior view of the cathodes is shown in Fig. 1 (initial state - Fig.1a, after machining - Fig.1b).
| | |
| --- | --- |
| | |
| Fig.1a | Fig.1b |
      Electron beam melting technology of tubular cathodes allows essentially improve the quality of of the cathodes and eventually the quality of deposition coatings of them, and to refuse their export procurement.